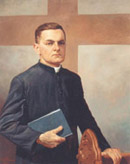 Knights of
Columbus
4th Degree
Samuel Cardinal
Stritch Assembly
#205

Welcome to the Samuel Cardinal Stritch Assembly #205
4th Degree Web Site
Dedicated to the service of God & Country

| | |
| --- | --- |
| | Click >>HERE<< to join our email List |

Stritch Assembly Quick News
Next Meetings
Mary, Queen of the Knights of Columbus

Faithful Navigators Update

Faithful Navigator Wayne Bukovic
Click >>HERE<< for my latest update.

Sick and Condolence Program
Next Exemplification

Sick
Get well cards are sent to all members who are ill or in the hospital upon notice to the chairman PFN Joseph Matlon by filling out our form or by calling Joe at 219-365-8353

Condolence
All members in good standing are entitled to a perpetual mass card in honor of their service to the Fourth Degree. This mass card is offered to the family members upon a Sir Knights entry into heaven.

Click HERE to submit your notification

Exemplification of the 4th Degree
Date: 22 FEB 2020
Candidate Registration: 10:30 AM
Location: Sheraton Hotel
3000 Warrenville Road Lisle, IL 60532

Click >>HERE<< for Exemplification Packet

Click for The NEW Fourth Degree Regalia Rules

Stritch Assembly, Local Council & State K of C News & Events


Click for more information
Join the men of Marian Council #3761 at their annual golf outing
remembering and celebrating all members that have gone before them.

Saturday, September 7th, 2019

7:00 AM Registration and Breakfast
8:30 AM Shot Gun Start

Lincoln Oaks Golf Course Crete, IL

MEMORANDUM



TO:

Vice Supreme Masters District Masters Faithful Navigators


From:

Dennis J. Stoddard Supreme Master


RE:

Uniform Policy


Date:

June 5, 2019





Effective midnight June 30, 2019,

the Order will officially retire the Fourth Degree Cape and Chapeau uniform.

Continued use of said uniform is a direct violation of the Laws and Rules Governing the Fourth Degree.



Members of the Fourth Degree are instructed to review Section 38 of the Laws and Rules Governing the Fourth Degree of the Knights of Columbus, as revised in 2017, which prescribes the official dress uniform of the Fourth Degree.



We expect that all members of the Color Corps, as Catholic gentlemen, will comply with this policy.


As Vice Supreme Masters, District Masters, Faithful Navigators and Color Corps Commanders, it is your responsibility to instruct and direct your districts, assemblies, and members that they are required to wear the new uniform if they wish to participate in the Color Corps. If any member refuses to comply, you should handle the situation respectfully but firmly.





Starting on July 1, 2019, any member of the Color Corps wearing a cape and chapeau to an official event will be denied participation and will be given a written notice that he is in violation of the policy. His Faithful Navigator shall be notified and advised to counsel his assembly members that only the new uniform is to be worn.



If a second violation occurs the member will be denied participation and will be ineligible to serve in the Color Corps for the remainder of the fraternal year. Notification of this action shall be sent to his Faithful Navigator and the Office of the Supreme Master, Subsequent violations may result in a summary suspension under section 162 (6) of the Laws of the Order (Insubordination).



Any District Master or Faithful Navigator who cannot or will not support this policy should contact the Office of the Supreme Master immediately.



Faithful Navigators shall remove from office any Color Corps Commander who refuses to comply with this directive.

Click >>HERE<< to download the NEW Color Corps Drill Manual

June 30 is the last day for Regalia. July 1st the uniform only is to be worn.

The Fourth Degree Uniform website is officially live and functional and ready to accept orders! It can be found at www.kofcuniform.com/

There is also a slider on Knightsgear.com that will lead you to the website to place an order. This will also allow you to order your colored patch for your beret.

This Web Site is made possible by
The Samuel Cardinal Stritch Assembly #205

Our Web Site is designed to keep our 4th Degree Sir Knights informed of Meeting Dates, Times & Locations, Stritch Assembly Activities, Member Fund Raising, Parish Support and Step Outs.

If you would like information on how to join the Knights of Columbus or how to become a 4th Degree Sir Knight click the link under the left navigation menu.


Stritch Assembly
Step Outs
Click >>HERE<<







Request
Honor Guard
(Step Out)
Click

>>HERE<<






Stritch Assembly


Photo Gallery
Click

>>HERE<<






Normandy
Then and Now



Click

>>HERE<<






The Vietnam
Veterans Virtual
Memorial Wall



Click

>>HERE<<


The 4th Degree
Masters Web Site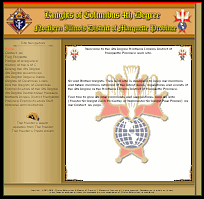 Click

>>HERE<<

Knights of Columbus Councils & 4th Degree Assembly's.
Would you like your own Web Site?.
Click >>HERE<<

Copyright
2010 -2019
Samuel Cardinal
Stritch Assembly #205
& Piraino Enterprises