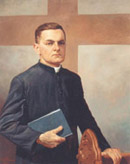 Knights of
Columbus
4th Degree
Samuel Cardinal
Stritch Assembly
#205

Welcome to the Samuel Cardinal Stritch Assembly #205
4th Degree Web Site
Dedicated to the service of God & Country

| | |
| --- | --- |
| | Click >>HERE<< to join our email List |

Stritch Assembly Quick News
Next Meetings
Mary, Queen of the Knights of Columbus

Faithful Navigators Update

Faithful Navigator Robert Major
Click >>HERE<< for my latest update.

Sick and Condolence Program
Next Exemplification

Sick
Get well cards are sent to all members who are ill or in the hospital upon notice to the chairman PFN Joseph Matlon by filling out our form or by calling Joe at 219-365-8353

Condolence
All members in good standing are entitled to a perpetual mass card in honor of their service to the Fourth Degree. This mass card is offered to the family members upon a Sir Knights entry into heaven.

Click HERE to submit your notification

Stritch Assembly, Local Council & State K of C News & Events

B

rother Knights, Sir Knights and parish leaders;

The Brother William Kerkel Council of the Knights of Columbus (St. Chris Knights) will be having a blood drive at St. Christopher parish in the parking lot between Unit D and the former teen center on the Veristi Mobile Unit on Sunday August 23 from 9 AM until 1 PM. This will be our second blood drive of the year (our first normally takes place during late Feb or early Mar) and with coVID-19 being the front page item for the year much more blood is needed than normal.

The Supreme and State Councils of the Knights have asked us to step up and leave no neighbor behind in many areas (and this is one way we can help our community with little effort on our part other than promotion.) The success of this endeavor will only come about with your participation. We are looking for 25 donors for this blood drive not including deferrals. We will be the only blood drive in the Midlothian area for the month of August, so this drive should be a success. If you could let your organizations know about this drive we can hopefully get 30 or more donors.

For those who are not with the Knights of Columbus I have emailed you because you are leaders of the community and have a vested interest in the St Chris parish as well as Midlothian. I hope you will in us in promoting this blood drive. When the community thrives we all win. This is just the first step in coming back to normal as a parish and a community from the virus that has forced us to stay indoors for the last four plus months.

The Knights will have people staged in the parking lot to assist those looking to donate blood. We are going to treat the parking lot the way we would on a Religious Education night by putting the cones up on the north end of the parking lot so only those donating blood can park near the school. If the amount of people donating is larger than the capacity of the mobile unit we will ask the donors to sit in their vehicle until called (we will get their name and car model) to donate. Social distancing will be strictly adhered to during this process for everyone's safety. Masses will be going on during the drive at 9:30 AM and 11 AM so the parking lot will be full even with a partial capacity of 120 for Mass

If you have any questions please contact Joe Frontera at (708) 769-9485 or seatvendor@aol.com for more information. I will have flyers in a couple of weeks once the blood company sends them to me.
Please let your friends and family know about this lifesaving event.

Thank you
Yours in Christ
Vivat Jesu

Joe Frontera
Blood Drive Chairman
BWK Council 5866

This Web Site is made possible by
The Samuel Cardinal Stritch Assembly #205

Our Web Site is designed to keep our 4th Degree Sir Knights informed of Meeting Dates, Times & Locations, Stritch Assembly Activities, Member Fund Raising, Parish Support and Step Outs.

If you would like information on how to join the Knights of Columbus or how to become a 4th Degree Sir Knight click the link under the left navigation menu.


Stritch Assembly
Step Outs
Click >>HERE<<







Request
Honor Guard
(Step Out)
Click

>>HERE<<






Stritch Assembly


Photo Gallery
Click

>>HERE<<






Normandy
Then and Now



Click

>>HERE<<






The Vietnam
Veterans Virtual
Memorial Wall



Click

>>HERE<<


The 4th Degree
Masters Web Site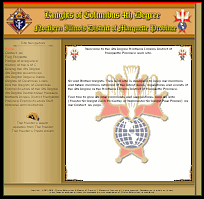 Click

>>HERE<<

Knights of Columbus Councils & 4th Degree Assembly's.
Would you like your own Web Site?.
Click >>HERE<<

Copyright
2010 -2020
Samuel Cardinal
Stritch Assembly #205
& Piraino Enterprises