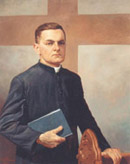 Knights of
Columbus
4th Degree
Samuel Cardinal
Stritch Assembly
#205

Samuel Cardinal Stritch
Assembly #205 Honor Guard Request

Step Out or Honor Guard Request

Step Outs/Honor Guard

When requesting a Step Out/Honor Guard, the Council should have their own members in attendance in new uniform, Suit and tie, or Ceremonial Baldric (yellow and white sash). The request should be made in a timely manner. If the Council does not have the Ceremonial Baldrics the Commanders will have some to loan for the event.

What events will we do a Step Out for as an Assembly?

A. When a Bishop/Cardinal is in attendance.
B. Confirmation
C. Installation of a new Pastor
D. Wakes or funerals of a Sir Knight and/or a Clergy (the approval of the family or surrogate is required)
E. Master request (Exemplifications and Parades)

Events that could be a Step Out for the local Council.

A First Communions
B. Local Events (parades and weddings)

The Commanders are responsible for organizing the step out. If there is no Commander in attendance a Faithful Navigator or Past Faithful Navigator should fulfill the Commanders responsibilities.

A step out request must be completed. You should double check all information before you submit the request. Approval of the request remains at the discretion of the Faithful Navigator.

Lastly, recent decisions have created new circumstances within the Knights. The K of C are experiencing changes with messaging a public image. There are less 4th Degree members with the New Uniform. This has imposed limitations within the ranks of The Honor Guard. With patience, we will see gradual growth in numbers, and will move forward as conditions warrant.


Stritch Assembly
Step Outs
Click >>HERE<<







Request
Honor Guard
(Step Out)
Click

>>HERE<<






Stritch Assembly


Photo Gallery
Click

>>HERE<<






Normandy
Then and Now



Click

>>HERE<<






The Vietnam
Veterans Virtual
Memorial Wall



Click

>>HERE<<


The 4th Degree
Masters Website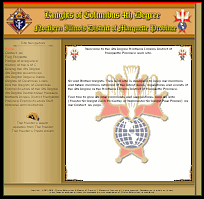 Click >>HERE<<





Would you like your own Website?
Knights of Columbus Council & 4th Degree Assembly Templates.
Click >>HERE<<

Copyright ©
2010 -2023
Samuel Cardinal
Stritch Assembly #205
& Piraino Enterprises